2018 iLearn Awards • Privacy Policy Updates • Transcripts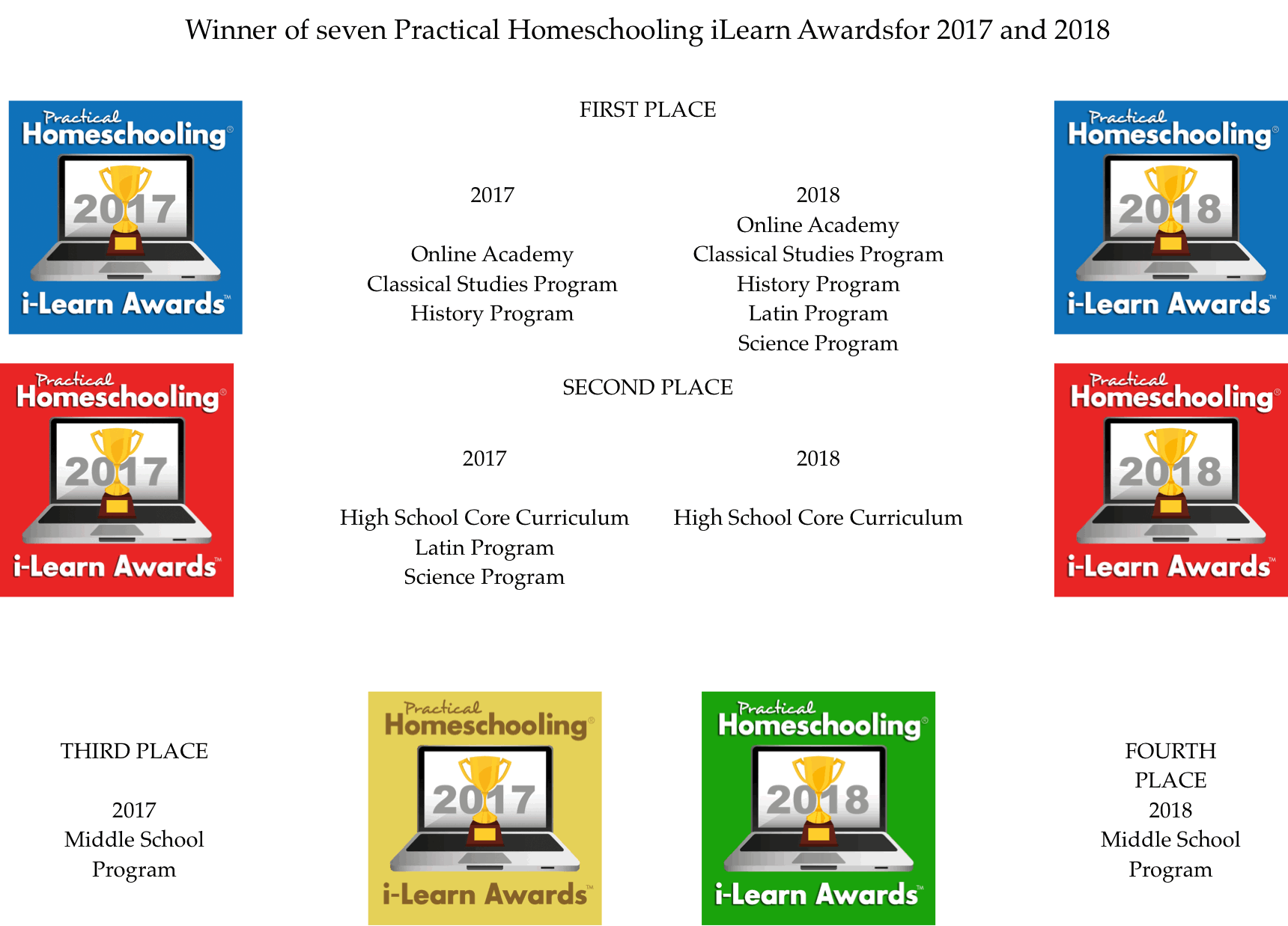 We did it again!
Last July, we announced that we had won three first place Awards (Online Academy, Classical Studies, and Latin Program) in Practical Homeschooling's iLearn Awards for best online curriculum and software. This year, our Science and History programs join them as first place winners, and our overall high school core curriculum placed second. You can learn more about the categories and how the awards are determined at the Practical Homeschooling website.
Mary Pride's own children were among Dr. Bruce's and Dr. Christe's first online students. She thanks Scholars Online for the part we played in helping them achieve academic and personal success.
---
Scholars Online's Updated Privacy Policy
Since we have students from around the world, we've updated our privacy policy to better explain how we comply with the European Union's General Data Protection Regulation. These regulations identify who has access to personally identifiable data, how it is stored, protected, and shared.
Because Scholars Online has always complied with the United State's own FERPA (Family Educational Rights and Privacy Act) and COPPA (Children's Online Privacy Protection Act) rules, we had to do very little to meet compliance with the new EU regulations, other than state more explicitly what we were already doing. Please read the new Privacy Policy and let us know if you have any questions at admin@scholarsonline.org.
---
Did you know Scholars Online transcripts are free?
Parents can review their students' transcripts any time online in their Account Management Centers. Just log in and scroll down to the "Show transcript for (student's name)" button. If you need a formal transcript sent on Scholars Online letterhead for high school programs, internships, scholarships, or college applications, just contact us at accounts@scholarsonline.org with a list of addresses and deadlines. There is no separate charge for formal transcripts; your registration fee covers the costs of mailing a reasonable number of transcripts each year. Note that, per FERPA rules, students over 18 own their academic records and must make their own transcript requests.
---
Scholars Online's Literature Courses for Middle Schoolers
Fairy Tales, Myths, and Folklore and The Thought Plickens: Learning to Think Critically are our two literature courses designed especially for middle school readers. Enroll now for Fall 2018-2019 at Scholars Online.
---
Have questions?

Scholarship Fund

Scholars Online receives donations for scholarships directly, and dedicates all money received from its Bookstore Amazon Associates affiliation to the Scholarship fund. Scholarships are granted on a case-by-case basis for tuition assistance when students would otherwise be unable to take courses due to job loss, medical expenses, or other family emergencies. Please contact accounts@scholarsonline.org to request information about scholarship availability for the 2017 Summer and Academic Year Courses.

Direct contributions to our scholarship fund are tax-exempt, as Scholars Online is a 501(c)(3) organization. To make a donation by check or online, see our Scholarship page. You may also donate by making purchases from Amazon.com through the Scholars Online Bookstore site or by designating Scholars Online as your charity of choice at Smile at Amazon.
Dr. Bruce A. McMenomy • Dr. Christe A. McMenomy
Scholars Online is a Washington state non-profit organization supporting Classical Christian Education for all students, regardless of race, creed, or age.