Fall 2018-2019 Enrollment Deadlines
It's only six weeks until the start of the fall semester! Scholars Online's academic year begins Tuesday, 4 September 2018. We're processing enrollments as fast as we can, but we want to be sure that everyone is enrolled and ready to go on Day One. We cannot guarantee that enrollments and payments made after August 25 will be processed by the time your first chat meets.
Remember, full tuition and all fees are due by the start of classes or your student may not be admitted to class. This applies even if you are using the installment option on the website, unless you make arrangements with the accounts manager. While we may accept enrollments and payments after that date for some courses (pending teacher approval), any delays in processing account information could prevent students from being admitted to chat sessions—so please complete registration and enrollment as soon as possible!
Passwords for continuing students will not change. Each new student will receive notification of his or her temporary password at the student's registered email address once membership fees have been processed. Please make sure that these notices are not being filtered to junk mail or spam folders.
---
Take advantage of our Planning tools
Scholars Online offers courses that will allow you to supplement your own, or take a complete curriculum with us. Use our planning page to help you see how our courses form an integrated approach to humanites and science subjects, at the same time developing critical thinking and communications skills.
Then visit the course listing for 2018-2019 to check out the courses that most interest you. If you don't see what you want, email us! We may be able to arrange for new courses or even tutorials with our teachers.
If you have questions about which courses are best for your student, let us know! Our academic consultant and our teachers will be delighted to help you determine placement levels and course sequences to meet your education goals. If you know you want to enroll in some courses but aren't sure about others, please complete the enrollments for the courses you know you want, so that teachers can begin planning on how to work with your student while you complete your plans. You can contact us in many ways if you have questions. Be sure to let us know if you'd prefer a phone consultation.
---
Enrolling is Easy!
If you don't yet have an adult member account, just click on the "Becoming a Member" link under Enrollments at the main Scholars Online website, then follow the instructions in our Enrollment Guide.
Once you've created your parent account and added student accounts for any minor students, you'll be able to enroll your students and yourself in our courses. For each class you want to take, add information about any prior coursework or other preparation. If the teachers have any questions about a student's background and readiness for the course, they will contact you to ensure that students are placed where they will be challenged to grow — but not be overwhelmed. The Payment Guide will walk you through the steps to review your invoice and pay fees and tuition in time for each student to attend the first chat of the school year.
---
Scholars Online's
Science Courses for All Ages
Scholars Online's Biology, Chemistry, and Physics core courses help students achieve high school level competency in the fundamental theories needed for medicine and engineering. Students who are ready for the extra challenge of a college-level course may combine the core course with our AP option to receive AP credit for their work.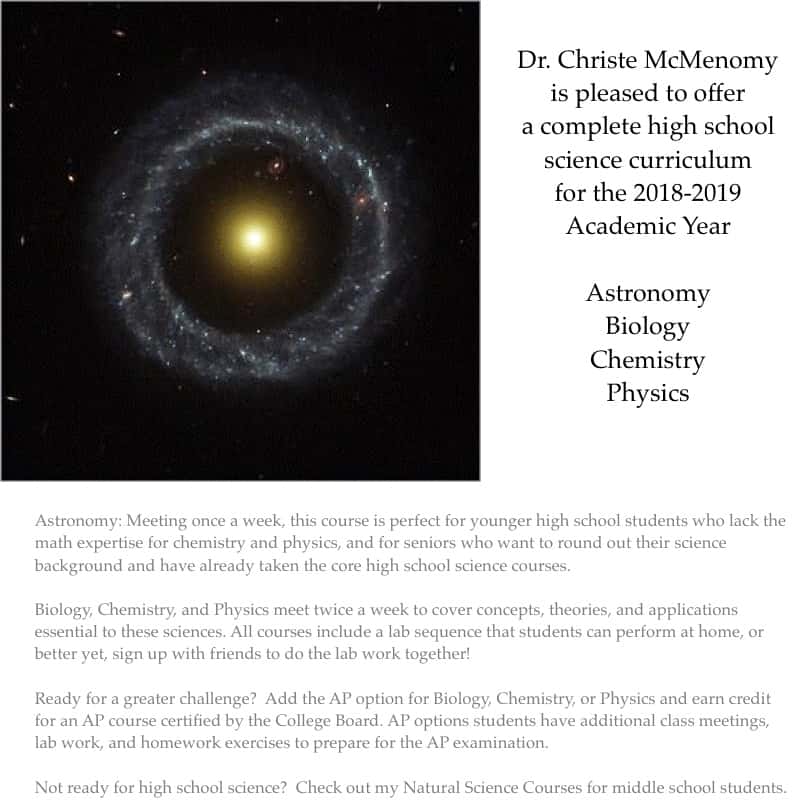 ---
Have questions?
Scholarship Fund
Scholars Online receives donations for scholarships directly, and dedicates all money received from its Bookstore Amazon Associates affiliation to the Scholarship fund. Scholarships are granted on a case-by-case basis for tuition assistance when students would otherwise be unable to take courses due to job loss, medical expenses, or other family emergencies. Please contact accounts@scholarsonline.org to request information about scholarship availability for the 2017 Summer and Academic Year Courses.
Direct contributions to our scholarship fund are tax-exempt, as Scholars Online is a 501(c)(3) organization. To make a donation by check or online, see our Scholarship page. You may also donate by making purchases from Amazon.com through the Scholars Online Bookstore site or by designating Scholars Online as your charity of choice at Smile at Amazon.
Dr. Bruce A. McMenomy • Dr. Christe A. McMenomy
Scholars Online is a Washington state non-profit organization supporting Classical Christian Education for all students, regardless of race, creed, or age.