Academic Year 2021-2022 • Grade 5 and above • Writing Sequence
Cursus Scriptorum: Writing With Honors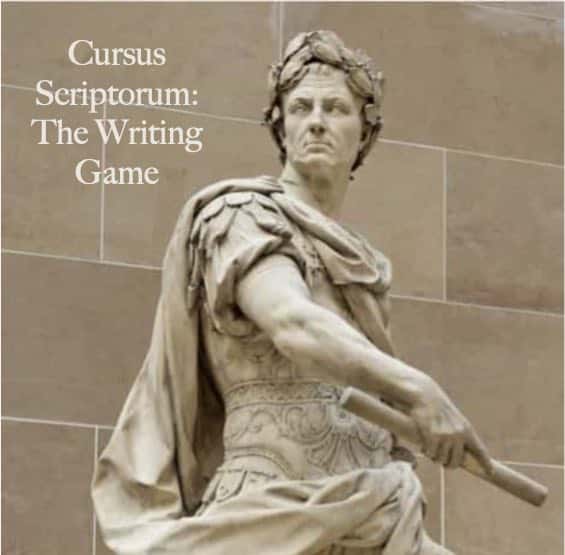 The Cursus Scriptorum is the Scholars Online writing program: designed to be as rigorous and comprehensive as possible, following an innovative individualized process, and taking the form of an academic game. The course is asynchronous, to allow students to proceed at their own pace and to allow those with crowded schedules to enroll; it is not given for a grade or for formal credit, but purely for the development of the skills. Work submitted to other courses may be used here with the teacher's approval. See the course description page for more details.
Course Website: Cursus Scriptorum: Writing With Honors
Sections and Teachers
Section 1
:
Instructor: Bruce McMenomy
Starts: September 7, 2021
Ends: June 10, 2022
Dates and times to be arranged with enrolled students.
Tuition: $550.00
---
---
Prerequisites
None. Writers of all levels are accepted, though it is recommended that the student be reasonably proficient at basic grammar and mechanics.
Recommended background
No background is required. Students could profitably enroll from elementary grades through the first few years of graduate school.
Teacher's notes:
Students may contact the teacher[s] at any time by email or Moodle message.
Textbooks and Materials
This textbook is required:
The Elements of Style
[Edition 4], Authors:
William Strunk, EB White
ISBN: 020530902X
Best sources: Scholars Online Bookstore
Other information: We selected this classic handbook of style for its high quality and its wide availability---no copy should cost more than ten dollars, if that, and it should be available in almost any bookstore. Any edition will serve.
---
This book is recommended but not required and its use is optional:
A Writer's Reference
[Edition 7], Authors:
Diana Hacker
ISBN: 0312601433
Best sources: Scholars Online Bookstore
Other information: This can be quite an expensive book to buy new. Prior editions and used copies are entirely acceptable. You may also use another reputable grammar book for reference as well, such as one of the many editions of Warriner's Grammar and Composition.
---
---

Scholars Online is fully accredited through the Middle States Accreditation Commissions on Elementary and Secondary Schools.