Academic Year 2021-2022 • Grade 9 and above • History Sequence
World History II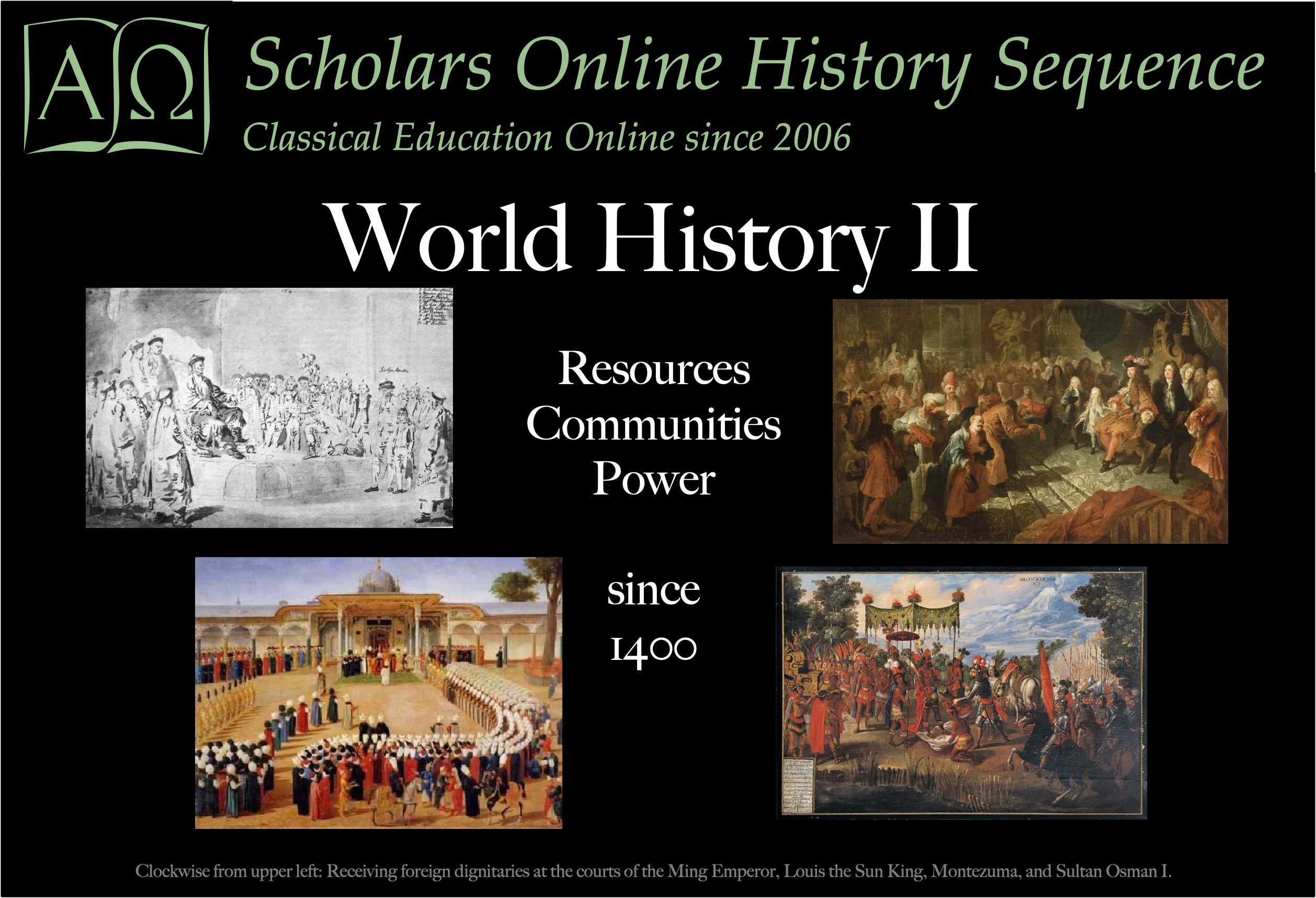 Year two of this two-year World History continues the overview of political, social, and economic developments in all parts of the world, beginning with the Scientific Revolution and Enlightenment, then continuing with the colonization of Africa, the rise of the Ottoman Empire in Asia, the continuity of dynastic rule in China and the development of the shogunate order in Japan. Focus then shifts to the revolutions in America and Europe and the Industrial Revolution, the rapidly changing economics and power struggles of imperialism, and the struggle for national identity in the wake of World War I. Most of the later part of the course focusses on developments in the twentieth century, including the rise and fall of superpowers and the stuggle over globalization.
Lectures and readings provide students with a solid grounding in the key names, dates, civilizations, and movements of world history, while seminar-type live chat discussions help students develop the tools of historiography and explore unifying thems on use of resources, the establishment of communities, and the expression of power across time periods and geographical boundaries.
Dr. Christe McMenomy and Mrs. Sarah Esposito provide different interpretations of key movements and events, helping students develop their own interpretations of history.
Course Website: World History II
Sections and Teachers
Section 1
:
Instructors: Christe McMenomy and Sarah Esposito
Starts: September 7, 2021
Ends: June 10, 2022
Monday 6:00 PM to 7:30 PM ET • Wednesday 6:00 PM to 7:30 PM ET
Tuition: $550.00
---
---
Prerequisites
None
Recommended background
World History I is a helpful precursor, but not required.
Textbooks and Materials
This textbook is required:
Patterns of World History with Sources, Volume II: from 1400
[Edition 3], Authors:
Peter Von Sivers, Charles A. Desnoyers, and George B. Snow
ISBN: 0190693614
Best sources: Scholars Online Bookstore
Other information: No other editions or versions, please. While the 4th edition has been released, we will continue with the 3rd edition for 2021. Be sure to purchase the version with sources, not the brief version. Used copies of the third edition with sources version are entirely acceptable, however, and are available at a substantial reduction in price. Renting the book from Amazon.com or purchasing it as an e-book is also possible through VitalSource (https://www.vitalsource.com/products/patterns-of-world-history-peter-von-sivers-charles-a-v9780190918187?term=0190693614). If you rent the textbook, be sure to choose a period long enough to cover our course, which ends in June!
---
---

Scholars Online is fully accredited through the Middle States Accreditation Commissions on Elementary and Secondary Schools.