Scholars Online and Accreditation for Middle School and High School Courses
We have always believed that our courses provide high-quality education for our students, but we know that some students require independent verification of our program content in order to qualify for government programs, sports participation, or scholarship awards. Accreditation allows our students to receive recognition for the work they have done at Scholars Online, without additional cost or further documentation.
Accreditation for Online Courses at Scholars Online
Scholars Online is fully accredited by the Middle States Association of Colleges and Schools Commissions on Elementary and Secondary Schools.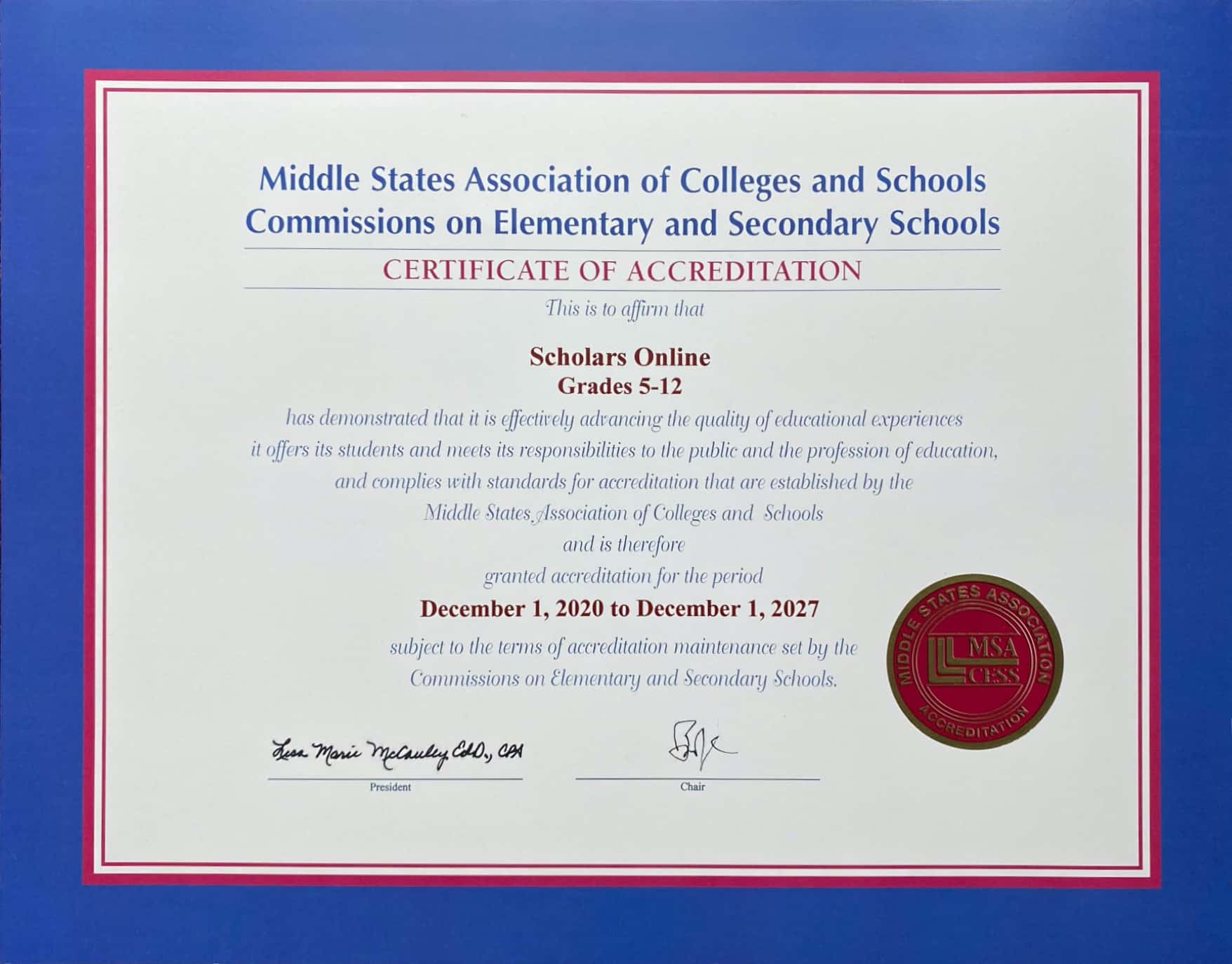 Accreditation is confirmation by an independent body that an academic program offers a high-quality, balanced education deserving recognition across state lines and by colleges and universities. It ensures that students receive credit for their work, and can continue to pursue their studies when they leave Scholars Online without repeating work "for the record" of another institution.
We began work on accreditation during our first year of operation in 2006. After a preliminary period of evaluation Scholars Online received provisional accreditation from the Northwest Accreditation Commission during its formal review process from 2009-2011. Full accreditation was confirmed in January, 2012, and confirmed again by Advanc-Ed when NWAC became part of the international accrediting organization.
Completing the accreditation process grants the full rights and responsibilities of accreditation to Scholars Online, its faculty, and its students. Accreditation confirms that Scholars Online meets or exceeds all regional accreditation organisation requirements and state and federal standards, for
clear expectations for student learning
curriculum
instruction
student assessments
leadership and organization
school services
faculty and financial responsibility
culture of improvement
After consideration of Scholars Online's purpose and goals, discussions with AdvancED about its policies and direction, and in consultation with parents during the 2015-2016 and 2016-2017 academic years, the Scholars Online Board of Directors decided to end our participation in the AdvancED accreditation program when our accreditation term expired on June 30, 2017. In the fall of 2017, we submitted our school profile for consideration by the Middle States Association of Colleges and Schools Commissions on Elementary and Secondary Schools, whose process and goals more closely align to our mission to provide a rigorous college preparatory curriculum in the classical Christian education tradition. We completed the candidacy application and interviews, and received a favorable report from the candidacy team. On March 5, 2018, MSA-CESS formally offered Scholars Online Candidacy Status. A minimum of one year of formal self-study is mandatory for full accreditation by MSA-CESS. Many institututions require two to three years for the evelaution review. However, because Candidacy follows a rigorous vetting process, students taking courses from a school in Candidacy with MSA-CESS should receive accreditation considerations from other institutions. Scholars Online completed its self-study and met with the MSA-CESS evaluation team in April 2020 to discuss our findings and plans for improvement. The team determined that Scholars Online met or exceded MSA-CESS standards and recommended the school for accreditation certification. MSA-CESS approved the recommendation on November 6, 2020 and awarded accreditation for the term December 1, 2020 - December 1, 2027.
This allows us to offer all of our online classes for high school credit that will be recognized by other accredited organizations throughout the world.
If you have concerns about formal accreditation for your courses in the interim, please contact us. There are a number of options for parents and students who require formal accreditation for scholarship, employment, sports participation, or military service applications.
Academic Standards and Integrity
Personal Integrity
To ensure that students actually complete the work assigned, Scholars Online enforces a strict personal integrity code of honor for all academic work done in any Scholars Online course, whether homework, class participation, or examination work. The actions and consequences of violating academic integrity standards are clearly spelled out in our Cheating and Plagiarism Policy statement.
Flexible Grade Reporting
Some students, homeschooling organizations, or affiliate schools require grades, while others do not; some keep track of credit, while others do not; some require very specific forms of reporting. We are willing to work with you and with your school, homeschooling organization, or college, to arrange for you to receive credit for courses taken through Scholars Online; we will further work closely with students and their parents in the college application process to help present as strong an application as possible.
Advanced Placement Preparation
Since 2008, any course wishing to grant "AP credit" (which is generally accepted as credit for a college-level course) must conform to standards set by the College Board and must submit syllabi to the Board for peer review to ensure course content meets these standards. In many cases, students may also achieve recognization for subject mastery at the college level by taking the AP examination for that subject. However, students in the sciences, where laboratory experience is a fundamental part of the course, have had difficulty securing recognition for their achievements through the examination alone. For this reason, Scholars Online opted to secure AP certification for its science courses from 2008-2019. Students successfuly completing both the material and lab components of the AP Biology, AP Chemistry, and AP Physics 1&2 Combined courses, received full AP credit on their transcripts. However, in 2019, the AP program revised its syllabus requirements, increasing control over course content and testing methods, and eliminating topics we consider essential to student mastery of core subjects. Rather than "teaching to the test", we will no longer seek formal AP certification for our science courses. We continue to monitor AP requirements for all subjects, however, so that we may adequately prepare those students wishing to take AP examinations in the subjects we offer, including literature, history, and Latin, as well as science.
---

Scholars Online is fully accredited through the Middle States Accreditation Commissions on Elementary and Secondary Schools.